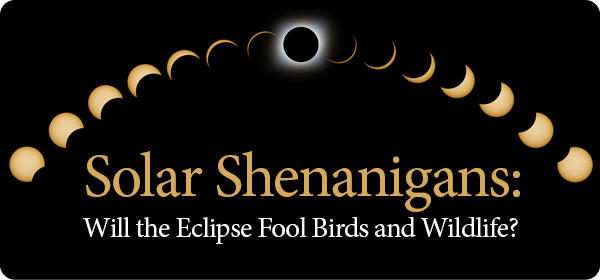 As the excitement builds towards the solar eclipse on August 21st, we are fielding lots of questions about what impact this spectacular event will have on birds and other wildlife.
There are numerous anecdotal accounts and observations that appear to show that many species of birds and other wildlife do react in different ways to the eclipse. These reactions can occur as the eclipse progresses and enters totality, as well as when the sun re-emerges.
Here are some of the reactions by birds and wildlife that have been reported to occur during previous total eclipses:
Birds
Confused Crooners - Songbirds have been noted to decrease their singing as an eclipse progresses, often to a point of total silence during the maximum darkness of totality. Speculations is that the darkening sky triggers the birds' night-time behaviors.
Out of Sync Singers - Observations show that some birds may also be confused by the re-emergence of the sun and a "dawn chorus" of bird song might be heard just as it would be during a morning sunrise.
Day or Night? - Numerous bird species have been reported to return to their night-time roosting locations as the total eclipse progresses. Starlings have been noted to return in large flocks to their roosts and display agitated behavior until the light returns to normal.
Night or Day? - Nocturnal birds such as owls, whip-poor-wills and nighthawks have been reported to either become active, take flight or call during total eclipses.
Fowl Rowel - Domestic fowl and pigeons have been observed to quickly return to their roosts or coops as the eclipse darkens the sky.
Savvy Shorebirds - Anecdotal observations seem to imply that in general, shorebirds seem to display very limited reactions to total solar eclipses.
Other Wildlife
Early Chirpers - Crickets have been widely observed to start "chirping" as the sky darkens and then fall silent upon the re-emergence of the sun. Katydids have also been reported to demonstrate this same behavior.
Silent Cicadas - Cicadas have been noted to end their shrill day-time calling and fall silent as the eclipse progresses.
Moving Mosquitos - During the darkest portions of an eclipse, mosquitos have been noted to emerge in mass.
Hustling Honeybees - Honeybees have been observed to return in swarms to their hives as the eclipse darkens.
Dream Weavers - Orb-weaving spiders, which generally re-weave their webs every night, have been observed to dismantle their old web during the darkness of an eclipse.
Busy Bats - Bats have been noted to emerge from their roost as the sky darkens and then return with the re-emergence of the sun.
Sly Skunks - Skunks, which are largely nocturnal, have been reported to come out and start foraging as it grows darker during an eclipse.
Sleepy Squirrels - Squirrels are reported to retreat to their nests during a total solar eclipse.

Being Seasonally Savvy: Help Birds During Molting Season
Just as people make seasonal wardrobe changes, many birds are beginning a transformation of their own by replacing their old and worn feathers in a process known as molting.
Molting is when a bird replaces some (partial molt) or all (full molt) of its feathers.
This complicated process requires a lot of energy and may take up to eight weeks to complete. Molting is so physically demanding for most ducks and geese that they can't fly and will molt in seclusion to avoid predators.
Molting season varies by species and time of year. Right now many birds are beginning their main molt of the year, however American Goldfinches are one of the last to molt. Due to their late nesting period, they won't start their molt until late August.
Distinguishing birds that are molting from those that are not can be difficult. Though some birds may lose patches of feathers and appear "balding," most birds' feather loss and replacement are far less noticeable.
Feathers are made of more than 90% protein, primarily keratins, so every molting bird needs extra proteins to grow strong feathers for proper flight and effective insulation.
Research shows that a consistent and reliable source of food actually helps birds grow higher quality feathers. Keep your feeders filled and also offer high-protein foods such as Nyjer® (thistle), peanuts, Jim's Birdacious® Bark Butter® and mealworms, to ensure that your birds have the reliable source of protein and fats to help them with molting.
Visit us soon for all of the high-protein foods that will meet your birds' needs. We have everything you need to help your birds keep going (and re-growing feathers) during this critical time.

During the hot and often dry conditions that make up the "dog days of summer," you will be doing yourself and your birds a big favor by providing them with a reliable source of water.
Water is very important to birds. Whether they are feeder visitors or not, birds need water. Offering a dependable source of water is probably the simplest and most important step you can take to greatly increase the variety of birds in your yard.
It can also significantly increase your enjoyment of your birds by allowing you to watch their often comical antics as they drink, bathe and preen.
However, as entertaining as it is for us, water (or the lack thereof) can be deadly serious for birds. Birds must be ready to fly at all times, and bathing is a critical part of feather maintenance and staying in top-flight condition.
Water is also vitally important when it's extremely hot and a bird's ability to regulate its body temperature can become stressed. Birds do not sweat and must remove excess body heat through their respiratory system. So when temperatures rise, a bird's respiration rate increases, sometimes to the point that it can be seen panting like a dog. This activity dehydrates birds and increases their need for a reliable source of water to replace lost fluids.
So, while the addition of a bird bath, fountain or mister to your yard can supply hours of enjoyable bird watching entertainment for you, it may also be providing a lifesaving necessity.
How to Provide Water for Summer Birds

Ceramic Bird Baths

Plastic Bird Bath

Metal Bird Bath

To attract the greatest variety of birds to your yard, provide a source of water along with your feeders.

Recommended Baths

Bird baths come in many shapes, sizes and materials, and they can be placed on the ground, pedestal-mounted or hung.

Ceramic bath styles can range from simple to very decorative. Their light weight makes them easy to relocate about the yard and to clean.

Plastic and metal baths are light, versatile and able to be easily moved about your yard. These baths work well with a bird bath heater and, unlike concrete and ceramic baths, they can be used in freezing conditions.

Birds prefer to bathe and drink in different depths of water. Use a bath with a sloped edge or add stones to vary the depth so birds can bathe comfortably.

Place your bath 10 to 12 feet from shrubs so predators can't surprise the birds. Shrubs also offer birds a place to preen their feathers and dry off.

Recommended Items

You will attract more birds with moving water. Use the Water Wiggler™ to create motion in your bird bath and to prevent mosquitoes from breeding in the water.

Regular cleaning will help reduce algae and is good for your birds' health. Scrub your bath regularly with our EcoTough™ Scrubber Brush, rinse well, and replace with fresh water.

Attach our WBU Dripper to your bird bath to provide a source of moving water. Many birds will creep down the dripper spout to take a drink.

Enjoying Your Hummingbirds More

With hummingbird migration beginning soon, what can you do to further enjoy the most exciting and captivating birds to visit your yard? Improve the view, offer multiple feeders and take a closer look.

Improve the View

• Get a closer view of hummingbirds with our Decorative Window Hummingbird Feeder, or bring your exisitng hummingbird feeders closer to your window with an Advanced Pole System® or hummingbird pole.
• Get clearer views of ALL the visiting hummingbirds with any WBU Hummingbird Feeder. Our tray-style feeders don't block the view (gravity-fed bottle feeders block views).
• Our High Perch™ Hummingbird Feeder features a high perch that allows hummingbirds to comfortably rest. Longer perching/sitting times at the feeder provide better, longer views of the birds.

Multiple Feeders: Ban the Bully!

• Hummingbirds, particularly adult males, can be very feisty and aggressive when defending their territories. Multiple feeders, spread throughout your yard, will encourage more hummingbirds to visit and keep bullies at bay.
• The more feeders you offer and the more spread out they are, the more difficult it is for a protective hummingbird to defend all the feeders. Others, like females or even juveniles, will be able to eat more often, perhaps staying longer to feed or rest at feeders.

Take a Closer Look

• Watch hummingbirds' tongues as they move in and out of the mouth (up to 12 times per second) to lap up nectar.
• Catch a glimpse of their tiny feet. Hummingbirds have very small feet that are primarily used for preening and perching.
• Look for yellow pollen, from foraging at flowers, on hummingbirds' foreheads.
• Watch how they fan their tail at one another, dart at one another or even fly in a pendulum-style arch at one another. All are forms of physical communication.

August Nature Happenings

• Peak of fall migration for Barn Swallows.
• Monarchs migrate August to October.
• Peak flight for American Rubyspot, Ebony Jewelwing, White-faced Meadowhawk and many other dragonflies.
• Shorebird migration begins.
• Lots of activity at hummingbird feeders.
• Blackbirds begin to flock and start to appear at feeders.
• Peak month for summer wildflowers to bloom.
• Flocks of nighthawks can be seen late in the month.
• Shorebird migration builds and waterfowl migration starts.
• Early warblers (Cape May, Tennessee, Magnolia, Blackburnian) migrate through the area.
• Squirrels give birth to their second brood.
• Hawk migration starts.
• American Goldfinches finish nesting late this month.
• Second brood of hummingbirds begin to appear at feeders early- to mid-month.
• Snapping Turtle eggs begin to hatch.
• Perseids Meteor shower is mid-month.