The Foundation of All Great Bird Feeding Stations
No matter how many feeding stations you have in your yard, it's important to have one that is the foundation of them all. This station should include at least one feeder that is attractive to seed and nut-eating birds. It should also hold enough food to last 4 or more days. This gives birds a consistent and reliable food source and ensures that you'll have more (and healthier) birds to watch!
Shop during our Feeders & Hardware Sale and SAVE on everything you need for a foundational bird feeding station.
20% OFF Feeders & Hardware*
*Valid only at the St. Charles, Mo. store. One discount per purchase. Offer not valid on previous purchases or sale items. Offer valid Now thru April/23/2017.

Keep Bird Feeding Clean with Our EcoClean Feeders
Spring cleaning is a snap for backyard bird feeding hobbyists when you use our EcoClean® feeders. Available only at Wild Birds Unlimited, our EcoClean feeders and accessories are the most advanced bird feeding products available.
EcoClean products feature Agion antimicrobial product protection. It is a patented technology based on silver ions that is a material preservative to inhibit microbial damage on treated surfaces. It is environmentally friendly in the manufacturing process and environmentally safe for use in your yard. This product protection won't wash or wear away.
Of course, EcoClean feeders still need to be kept clean from normal grime and droppings. We recommend regularly cleaning them with warm soapy water and a scrub brush. It is not necessary to use a bleach solution to clean or sanitize EcoClean feeders.
Our EcoClean Seed Tube Feeders feature the antimicrobial product protection as well as our Quick-Clean™ removable bottom; making them the absolute easiest-to-clean feeders on the market. A quick press of two buttons and the removable base makes cleaning a snap.
Ever notice how finches feed from the top of finch tube and finch mesh feeders? Use our WBU EcoClean® Finch Tube or Finch Mesh Feeder featuring our Quick-Clean removable bottom, and refill from the bottom. This helps prevent clumping and promotes "first seed in/first seed out" rotation of the seed. These features and actions help you manage the food and keep the birds happy.
Stop by the store to see some of our other EcoClean products that you can include in your bird feeding stations to make spring cleaning a snap.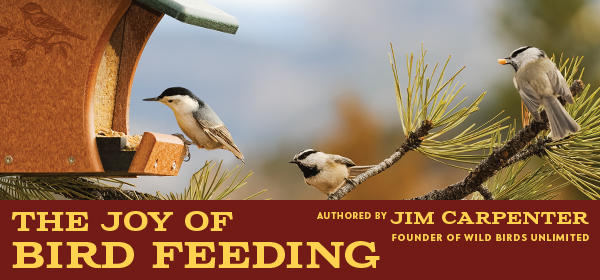 Filled with useful information and illustrated with more than 800 images and 180 maps, The Joy of Bird Feeding is the essential guide for anyone who loves to feed the birds.
In this book, Jim Carpenter, founder and president of Wild Birds Unlimited, shares a lifetime of bird feeding passion and experience, answers common hobby problems and provides fun bird feeding activities to share with family and friends.
Stop by our store to get your copy!
April Nature Happenings
• Project FeederWatch ends this month, www.birds.cornell.edu/pfw
• Common Loon and Barn Swallow migrations peak.
• Whip-poor-wills are returning from Central America.
• American White Pelicans, Yellow-rumped Warblers and kinglets (Ruby- and Golden-crowned) migrate through the area.
• Chipping Sparrows, Blue-gray Gnatcatchers, Double-crested Cormorants, Chimney Swifts and Tree and Barn Swallows return.
• Brown Creepers and Winter Wrens migrating.
• Dark-eyed Juncos, American Tree Sparrows leaving.
• Bald Eagles, Canada Geese, Mallards incubating.
• Ring-necked Pheasants are displaying.
• For years, Ruby-throated Hummingbirds and Baltimore Orioles have returned by the third week. Check hummingbird migration at http://www.hummingbirds.net/map.html
• Purple Martin sub-adults arrive.
• Canada Geese are nesting and their first young hatch.
• Lyrids meteor shower, late-April.
• Earth Day, April 22. .
Watch Our Barred Owl Nest Cam!
A mama Barred Owl has set up residence in our owl nest box again this year. Jim Carpenter, President & CEO of Wild Birds Unlimited, has hosted a camera-equipped owl box in his backyard for many years and it's time to check in on this year's residents.
Mama moved into the box in early March. If all goes well, we can expect the owlets to start hatching in mid-April. They'll leave the nest four to five weeks after hatching.
Stop by often to watch the live streaming video from the nest box 24 hours a day!
(Mouse over the video below to access video controls and to share with friends.)