Whether you're preparing for the Great Backyard Bird Count (February 12-15),or just want to see more birds, we have a variety of the best seed blends and suet in town! Our seed blends:
are chosen by your local expert
are formulated to care for your birds nutritional needs.
contain no cereal fillers – just seeds your birds love.
Our suet and no-melt suet dough contain high-quality ingredients and make every trip to the feeder count.
SAVE NOW during our Seed, Suet and Cylinder Sale. (Now thru 2/21/16)


*Valid only at the St.Charles, MO. store.
Your Backyard Counts!
Take Part in the Great Backyard Bird Count
February 12 - 15, 2016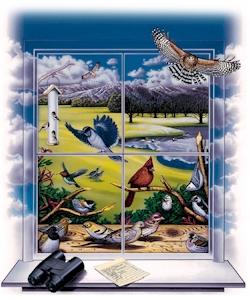 When you feed birds in your backyard, it shows that you value having a daily relationship with nature and that you are willing to take action to foster it.
Like many of us, if you have been feeding birds for a while…you probably have a reputation. Your friends, neighbors and relatives likely see you as a person who loves nature, and they value your willingness to share the joy of "your" backyard birds at a moment's notice.
Your hobby and your backyard truly count as things that are important to you.
The Great Backyard Bird Count gives you the opportunity to make them count even more than ever by participating in this annual event which links citizens with scientists in an effort to collect important data about backyard birds.
The GBBC is a joint project of Cornell Lab of Ornithology and the National Audubon Society and is sponsored by Wild Birds Unlimited. It takes place each February. Count the birds in your backyard, and then simply report the information online at http://gbbc.birdcount.org/.
Your information becomes part of an extensive data base that is analyzed by scientists to better understand important trends in bird populations, range expansions, habitat changes and shifts in migration patterns.
Make your backyard count even more for the birds when you participate in this year's GBBC. And to ensure the birds all show up to be counted, visit our store for the widest variety of great bird food products!
How To Better Identify
Birds for GBBC
As a Great Backyard Bird Count (GBBC) participant, you may see birds you don't know. To identify lesser-known birds, practice answering the following questions, looking at a bird from the top down.
1. Silhouette
Look at the bird's overall size, shape and posture. Is it the size of something familiar like a sparrow, robin or crow? How does it sit, perch or fly?
2. Head Markings
Does the bird have a colorful or striped cap? Is there a stripe above or through the eye, or does it have an eye ring or "spectacles?" Look for cheek patches or a mustache. Is there a white throat patch?
3. Body Markings
What are the overall back, breast and belly colors? What's on the chest: a patch, spots, streaks or is it clear? Are the flanks (sides of body) clear or streaked? Is there a white or yellow rump patch?
4. Wing Markings
Are the wings a different color than the body? Are there wing bars or spots?
5. Tail Shape and Markings
Is the tail long or short compared to the body? Is it forked, squared, pointed or another shape? Are there certain colors or vertical or horizontal stripes?
We offer a variety of binoculars that will provide clear views and field guides that will help you determine a bird's identity. With practice, you will quickly gather all the clues you need to positively identify birds.
For more tips on how to better identify birds, visit http://gbbc.birdcount.org/.
February Nature Happenings
• Project FeederWatch continues, www.birds.cornell.edu/pfw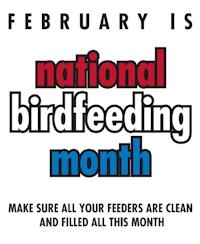 • February is National Bird Feeding Month
• Peak of squirrel mating season.
• Great Horned Owls are incubating their eggs.
• A few Sandhill Cranes can be seen migrating north in late February.
• Red Fox, Raccoon, Woodchuck, Beaver, Skunk, Opossum and Rabbit mating seasons.
• Bluebird and other nest boxes need to be cleaned out this month. Believe it or not, Bluebirds and Chickadees are now scoping out neighborhoods to raise a family. They are looking for potential home sites(nest boxes). Be sure and put your houses out this month.
• Bald Eagles begin nesting behavior.
• Red-winged Blackbirds, Killdeer and Great Blue Herons return in southern areas.
• Look for early waterfowl migrants such as Bufflehead, Common Goldeneyes and Redheads as lakes thaw.
• Chipmunks reappear at feeders as temperatures rise.