If you are ready to attract more birds to your backyard, we have a variety of the best seed blends and suet in town! Our seed blends:
are chosen by your local expert
are formulated to care for your birds.
contain no cereal fillers – just seeds your birds love.
Our suet and no-melt suet dough contain high-quality ingredients and make every trip to the feeder count.
SAVE NOW during our Seed, Suet and Cylinder Sale (Now thru 7/31/16)*
*Valid only at the St. Charles, MO. store.
Woodpecker Family Activities
Families opting to stay close to home this summer won't have to travel any farther than their backyards for fun and entertainment. Across the country, adult woodpeckers are introducing their young fledglings to a whole new world of experiences.
People who only feed the birds during the winter miss out on summer bird feeding fun and fascinating wild bird 'family life' activities. By mid-summer, woodpecker fledglings begin leaving the nest and are fed and taught to eat from feeders by their parents; a fascinating interaction to observe.
The health and growth rate of a fledgling is determined by the amount of nutritional foods it consumes. High-protein and high-calcium foods are especially important until a bird is full grown. Fledglings require a lot of protein to help them grow strong, properly-colored feathers and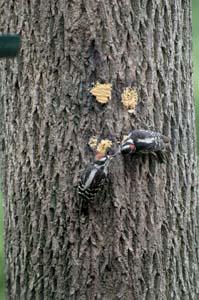 strong flight muscles.
Help your birds with high-protein foods like mealworms, peanuts, Jim's Birdacious® Bark Butter® and suet. These energy-packed foods will entice your birds and their young back to your yard. The young birds will learn the location of your bird food and begin to make return trips on their own.
You can recognize Downy and other woodpecker fledglings by their fresh and dapper plumage, whereas that of the adults is worn and dusky from their repeated trips in and out of the nest cavity.
After a few weeks, the parents stop feeding their fledglings and may even peck at them if they persist in begging for food to get them to feed themselves.
With lots of young woodpeckers around and the molting process in full swing, woodpeckers are seeking the extra calories and proteins that feeders can provide.
Visit us soon and we'll make sure you have the expert advice and quality hobby products you need to make friends with some of the cutest birds in the neighborhood.
Out with the Old, In with the New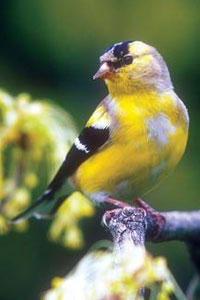 Just as people make seasonal wardrobe changes, many birds are beginning a transformation of their own, losing and replacing their feathers in a process known as molting.
Molting is when a bird replaces some (partial molt) or all (full molt) of its feathers.
This complicated process requires a lot of energy and may take up to eight weeks to complete. Molting is so physically demanding for most ducks and geese that they can't fly and will molt in seclusion to avoid predators.
Molting season varies by species and time of year. Right now many birds are beginning their main molt of the year, however, American Goldfinches (pictured) are one of the last to molt. Due to their late nesting period, they won't start their molt until late August.
Distinguishing birds that are molting from those that are not can be difficult. Though some birds may lose patches of feathers and appear "balding," most birds' feather loss and replacement are far less noticeable.
Feathers are made of more than 90% protein, primarily keratins, so every molting bird needs extra proteins to grow strong feathers for proper flight and effective insulation.
For the next few months, offer high-protein bird foods, such as Nyjer® (thistle), peanuts, Jim's Birdacious® Bark Butter® and mealworms, to ensure that your birds have a reliable source of protein to help them with molting.
Visit us soon for all of the high-protein foods that will meet your birds' needs.
We have everything you need to help your birds keep going (and re-growing feathers) during this critical time.
July Nature Happenings
• NABA National Butterfly count.
• Peak of River Bluet (dragonfly) flights
• First brood of immature hummingbirds begin to show up at nectar feeders early in the month.
• Thistle plants begin to seed; goldfinches gather thistledown for nesting material and begin nesting.
• Many species (robins, cardinals, bluebirds, etc.) may be in their second nesting.
• Mallards and Wood Ducks molt into "eclipse" plumage and are unable to fly for several weeks.
• Fall migration starts this month with shorebirds returning later in month.
• Katydids and Cicadas are in full chorus by late-month.
• Listen for the feeding screeches of young Barred and Great Horned Owls.
• Look for hummingbirds feeding on Trumpet Creeper and Jewelweed flowers.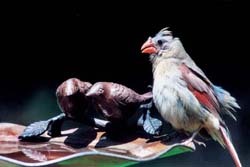 • Many songbirds go into heavy molt.
• Great Blue Herons fledge.
• Delta Aquarids Meteor shower peaks in late-July.
Molting Female Cardinal