Wild Birds Unlimited - Holiday Video 2016
Sharing The Joy of Bird Feeding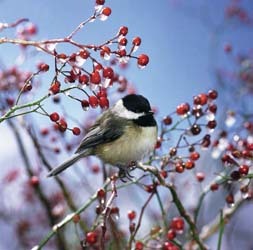 The delight of seeing so many active and energetic birds at your feeders, and knowing that you are having a positive impact on the quality of their lives, makes feeding the birds a real joy during this time of the year.
That joy is available to everyone. By providing just a few simple things, such as nutritious foods, clean water and ample shelter, the birds in your yard will quickly become a valuable asset. Not a cash asset, but an entertainment asset that rewards you with many priceless hours of happiness and fulfillment.
Winter is a great time to watch the different types of birds at your feeders. Woodpeckers are busy eating mouthfuls of suet. Juncos hurriedly scour the ground for millet. Finches squabble at the finch feeder. Jays raucously steal peanuts and nuthatches industriously horde sunflower seeds.
Bird feeding is a fun and educational hobby, and this is the season to share it with everyone.
Stop by the store this month and share a bit of the holidays with us.
We have the best seed, feeders, nature gifts and advice, and we can help you introduce this wonderful hobby to your neighbors, friends and family.
As we celebrate this special season, we invite you to bring nature home for the holidays and thank you for continuing to support our store, nature and wildlife.
We wish you and your family a wonderful and healthy holiday season.
Buttons the Snowman Seed Cylinder
Buttons the Snowman Seed Cylinder is a mix of safflower, sunflower chips, peanuts, cherries, blueberries and papaya to attract a variety of birds. Simply slide the Snowman Seed Cylinder onto our WBU Seed Cylinder Feeders or WBU Dinner Bell™ feeder and enjoy the feathered holiday visitors.
The Snowman Seed Cylinder is the perfect holiday addition to any yard and a great gift idea for the nature lovers on your list.
Dimensions: 7½" x 3" diameter
December Nature Happenings
• Project FeederWatch continues, www.birds.cornell.edu/pfw
• Christmas Bird Count is this month, birds.audubon.org/christmas-bird-count
• Bobcat mating season.
• Bald Eagles arrive from the North to overwinter.
• Chipmunks hole up for the winter.
• Great Horned Owls are pairing up this month – listen for their "who" calls.
• This is a great time to teach chickadees and titmice to feed from your hand.
• Watch for late waterfowl migrants.
• Geminid Meteor Shower is mid-month.
Who's Awake? Me Too!
Look at the title of this article and read it out loud a couple of times … say it slowly and draw the words out a little. Go ahead … try it!
Congratulations, you have just learned the typical five-noted call of one of the most powerful and dominant raptors of the night sky – the Great Horned Owl.
In owl language, the call sounds something like whooo…whoo-hoo….who..who. During the breeding season, pairs of Great Horned Owls will often perform this call in a duet that starts around dusk and may last for more than an hour. If you are lucky enough to have a pair near your home, you can separate who is who by listening for the female's higher pitched and slightly faster song.
Odds are good that you do have a pair of these large and long-lived owls living nearby. Able to thrive in virtually any habitat found in the United States, Canada and Mexico, they are equally at home in wilderness or suburban settings. This amazing diversity is the result of their superior physical and behavioral adaptations which enable them to survive under almost any condition.
Superbly adapted for hunting at night with large "night vision" eyes, acute hearing, silent flight and strong talons, it is the rare item of prey that can escape the clutches of a Great Horned Owl. And it's not picky about what it eats! It has the most varied diet of any North American hawk or owl and has been known to feed on invertebrates, fish, amphibians, reptiles and even other birds. A wide variety of mammals, including skunks and porcupines, makes up the largest portion (up to 90%) of its typical diet.
But life for the Great Horned Owl is not always easy, especially in the early months. Mortality rates during the first year of life can range from 30 to 60 percent depending on local food conditions. But, if a fledging owl can survive to become an adult, it has the longest potential life span of any species of owl in North America. Bird banding studies confirm numerous owls living well into their twenties with the record bird being more than 27 years old.
Great Horned Owls, along with many other species of owls, are regular visitors to backyards all over America. To help you learn more about the ones living close to you, visit us at the store for a wide variety of field guides and other information.
To check the accuracy of your newly-learned imitation of the Great Horned Owl's call, visit the web site of a Wild Birds Unlimited partner, Cornell Lab of Ornithology, to hear a great audio clip of the call. Remember practice makes perfect!