Hummingbirds' Migration Marathon
Could you finish a marathon race? How about 38 of them, a distance just under 1,000 miles?
Well, as crazy as it sounds, that's what some hummingbirds are doing right now.
The next couple of months are your best opportunity to see hummingbirds. Adult hummingbirds are now joined by a horde of juveniles as they head south to Central America and their winter territories, some traveling thousands of miles.
It's estimated that more than seven million Ruby-Throated Hummingbirds return to the tropics each winter.
En route to their destination, hummingbirds will take part in an eating binge that is unmatched at any other time of the year. A high-calorie diet is important to build fat reserves for their migratory trip. So be sure to have your hummingbird feeders filled with a nectar solution.
Bird banding studies indicate that, with very few exceptions, the hummingbirds visiting your feeders on a late-migration day are completely replaced by a new wave of migrants within 24 hours.
To estimate the number of hummingbirds using your feeders during migration, multiply times five. For example, if you see 10 hummingbirds at your feeder at one time, you will have about 50 passing through your yard that day.
Visit us soon, and we'll make sure you have everything you need to enjoy these miniature migrating marathoners.
During the hot and often dry conditions that make up the "dog days of summer," you will be doing yourself and your birds a big favor by providing them with a reliable source of water.
Water is very important to birds. Whether they are feeder visitors or not, birds need water. Offering a dependable source of water is probably the simplest and most important step you can take to greatly increase the variety of birds in your yard.
It can also significantly increase your enjoyment of your birds by allowing you to watch their often comical antics as they drink, bathe and preen.
However, as entertaining as it is for us, water (or the lack thereof) can be deadly serious for birds. Birds must be ready to fly at all times, and bathing is a critical part of feather maintenance and staying in top-flight condition.
Water is also vitally important when it's extremely hot and a bird's ability to regulate its body temperature can become stressed. Birds do not sweat and must remove excess body heat through their respiratory system. So when temperatures rise, a bird's respiration rate increases, sometimes to the point that it can be seen panting like a dog. This activity dehydrates birds and increases their need for a reliable source of water to replace lost fluids.
So, while the addition of a bird bath or a drip-or-mister to your yard can supply hours of enjoyable bird watching entertainment for you, it may also be providing a lifesaving necessity.
Drip-or-Mist
August Nature Happenings
• Peak of fall migration for Barn Swallows.
• Monarchs migrate August to October.
• Peak flight for American Rubyspot, Ebony Jewelwing, White-faced Meadowhawk and many other dragonflies.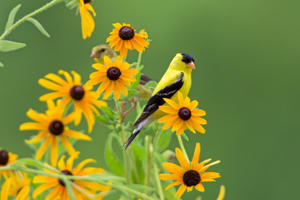 • Shorebird migration begins.
• Lots of activity at hummingbird feeders.
• Blackbirds begin to flock and start to appear at feeders.
• Peak month for summer wildflowers to bloom.
• Flocks of nighthawks can be seen late in the month.
• Shorebird migration builds and waterfowl migration starts.
• Early warblers (Cape May, Tennessee, Magnolia, Blackburnian) migrate through the area.
• Squirrels give birth to their second brood.
• Hawk migration starts.
• American Goldfinches finish nesting late this month.
• Second brood of hummingbirds begin to appear at feeders early- to mid-month.
• Snapping Turtle eggs begin to hatch.
• Perseids Meteor shower is mid-month.
Are you our next great employee?
The difference between Wild Birds Unlimited and other retailers goes far beyond what we sell. It's who we are. Enthusiasm, professionalism, informed advice and superior customer service are the hallmarks of our staff.
We are seeking a part-time Store Associate (2-4 days a week) with great retail and service skills. Working at your locally owned Wild Birds Unlimited store is an opportunity to support and educate our friendly customers about birds and nature.
Our Store Associates work with other staff, including the owner, to bring to life the store's mission – "We Bring People and Nature Together®…And We Do It With Excellence!" To that end, we provide training with regard to backyard bird feeding, bird watching and product knowledge.
Requirements:
Previous retail experience preferred
A flexible schedule and the ability to work weekends
Ability to lift and carry seed (20-50 lb. bags) for our customers – a foundation of our service!
Ability to be on your feet 6-9 hours
Ability to work in a non-smoking environment
Our goal is to provide quality products, service, expertise and a high energy shopping experience. Help customers bring nature into their own backyards and lives. Come join our team!
If you are interested in becoming part of our team, please stop by and fill out an application. You may bring a resume as well if you like, but a completed application is required.